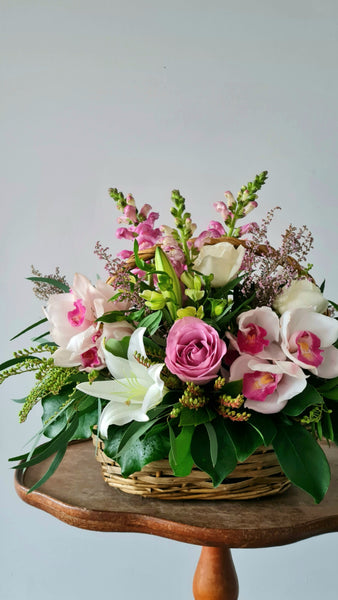 Basket Flower Arrangement.
*Flower and Plants delivery is available only for Auckland*
This is a great arrangement to send to a loved one in a hospital or retirement home.
It has an oasis block so all they need to do is add water every few days.
We will create this arrangement with mixed seasonal colors and flowers. The basket style may vary depending on availability.
The photo is size $159
Note: We will do our best to stock as many varieties of flowers but please understand that there will be limited stock due to the situation.
Delivery Prices (same-day delivery)
Pick up from our store 76 Coates Avenue Orakei Auckland: Free

Orakei Suburb: Free
Local Suburb: NZ$7.50 (Apply to ONLY LISTED SUBURB) 
  - Remuera
  - Newmarket
  - Parnell
  - Mission Bay
  - Kohimarama
  - St Heliers
  - Glendowie 
Other Auckland suburbs: NZ$16.00 (Please see our area map for availability) 
Order over NZ$150: Free ( Apply to website orders only)