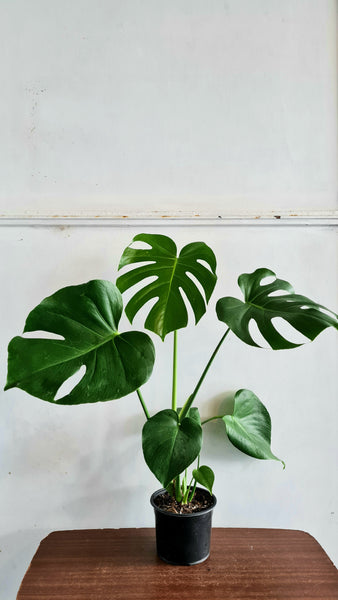 Monstera Deliciosa
*Flower and Plant delivery is available only for Auckland*
The Monstera Deliciosa has been an iconic plant for many generations. With its rapid growth, forgiving nature, and the look of that beautiful foliage, it is no wonder it's loved by many. It also can grow tall as a climbing plant, or be grown wide as a trailing plant. This creates a degree of versatile making it the perfect plant to fill any space in a home. 
Habitat: Likes a warm, humid environment.

Light: Bright, indirect light. Direct sunlight will burn the plant.

Water: Prefers to be kept lightly moist.

Soil: A free-draining peat-based soil type is recommended.

Fertiliser: Throughout its growing season.
 Pot size: 14cm
Please note: All our plants have their own unique characters and the photo is just a guide to show what the plant looks like. Variations of shape sizes... but they all look happy and healthy!