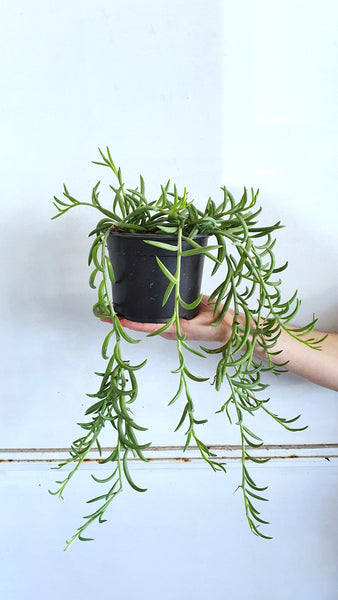 Strings of fishhooks
*Flower and Plant delivery is available only for Auckland*
The String of fishhooks
 is a succulent pot plant with a trailing growth habit.
Habitat: Grows best in cooler temperatures.

Light: Prefers bright indirect light

Water: Watering once a month is plenty. Wait until the soil is fully dry before watering.

Soil: Potting mix

 or sandy soil.

Fertiliser: Feed twice a week during active growth. Feed once every six weeks during dormant growth.
Please note: All our plants have their own unique characters and the photo is just a guide to show what the plant looks like. Variations of shape, sizes... but they all look happy and healthy!
***Current String of fishhook plants are not bushy like the photo as they just arrived from nursery but they will still grow beautifully like the photo in a couple of months! They are in a hanging black plastic grow pot.